Stitches Stash
Ok, I know I suck for being away for so long, but I've been busy trying to buy a house. It's not that simple of a process in the Bay Area as every stinking piece of property usually has at least 5 offers on it. Anyhow...
I wanted to share photos of the yummy stash I purchased at Stitches West. Please note that this does not include the gifts I bought for my sister (who is also a knitter). Here it goes:
The first item is this beautiful Peruvian Tweed Alpaca yarn I purchased from
The Village Spinning & Weaving Shop
.
Peruvian Tweed Alpaca Yarn
I want to knit myself a sweater and immediately fell in love with the color and softness of this yarn. I bought 1lb (approximately 1,200 yards) which came in two hanks. Unfortunately when I got it home and started knitting a swatch I discovered that I'm allergic to alpaca! The horror! I'm so bummed. However one of my contractors knits and she might be interested in purchasing the yarn from me.
I also bought these two hanks of hand-painted yarn from
Royal Hare
.
Handpainted Yarn from Royal Hare
One is 100% Merino and the other is Mohair. I have 140 yards of the Merino. I seem to have lost the label for the Mohair so that's a mystery. I'm planning to make either a scarf or small bag with this yarn.
I saw these three balls of yarn at WEBS.
Wildwood by Valley Yarns
They're made up of Viscose, Mohair, Metallic & Polyester. They're so bright and sparkely! Each ball has 98 yards, so I'll probably make a long, skiny scarf out of each one.
As for patterns, I bought three great sweaters from
White Lies Designs
.
Sarah's Cardigan
, the
Angelina Vintage Jacket
, and the
Milinda Pullover
. My sister wants me to knit her the Milinda Pullover. We'll see.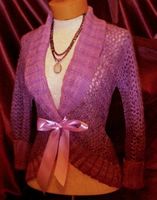 Sarah, Angelina & Milinda Sweater Patterns from White Lies Designs
I also purchased the
Casual Glamour Capelet
pattern from
Stitch Diva Studios
, along with these super cute notecards.
Stitch Diva Studios Capelet
Notecards & Yarn Yardage Table
The Yarn Yardage Table also pictured was purchased when I bought the Alpaca from
The Village Spinning & Weaving Shop
.
All in all I had a great time at Stitches and I'm already looking forward to next year!
~ Christina